LION IN THE CELLAR – Pamela Branch (1951)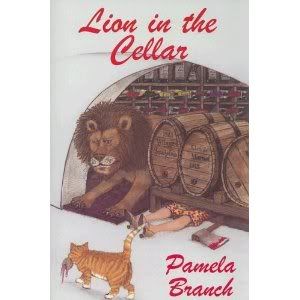 This is an absolute roller-coaster ride of a book. In 158 pages, Branch juggles over two dozen characters (including a retired lion tamer, an undertaker, three cleaning ladies, an amateur scientist, a herbalist who dabbles in astrology, various criminals, sweet Sukie Chandor, her law student husband Hugh and her murderous Uncle George), a horse, a goat, a cat, a stuffed lion, and two corpses. It's a tribute to her skill that each character, including the animals, is richly drawn and readily distinguished from the others, which is no small feat when working on a canvas this tiny. Add black humor, hilarious dialogue and a series of improbable events to the mixture, and you wind up with a real treat.
Young Sukie Chandor is sweet and kind, and nobody at the Carp public house minds that her mother is in an insane asylum and that her grandmother hung for killing five people with an axe. That is, until Sukie discovers the body of veterinary surgeon Bentley in her yard with a bloody axe nearby. Sukie doesn't think she killed him, but she isn't sure. All she knows is that she must dispose of the body, and she enlists a few of the regulars at the Carp to help her. This would be a capitol idea if only the regulars didn't have a few scores to settle among themselves, thereby spending a great deal of time leaving corpses and clues around to incriminate each other. Before long, Sukie is raiding the housekeeping money to pay blackmail and Hugh is busy applying the principles of "Criminal Law in a Nutshell" to the situation. In desperation, Sukie calls Uncle George, a well-dressed strangler with a taste for the good life, to help her dispose of the bodies. All sorts of mayhem ensues.
This is a rich, frothy confection of a book. If you like your vintage mysteries straightforward, stay away from this one. But if you like the madcap, the whimsical and the frivolous, then this will be your cup of tea. Fans of Edmund Crispin would enjoy Branch's work.
Pamela Branch is an entry in my "Persons of Interest" category over at
Bev's Vintage Mystery Challenge
. I'll see if I can sum up Branch in a few phrases: Born in Ceylon. Urdu speaker. Horse trainer. Painter. World Traveler. Lived in a tent in the Himalayas and on a houseboat in Kashmir. Attended the Royal Academy of Dramatic Arts. Hunted with hawks and guns. At least, this is what she claimed. After reading
Lion in the Cellar,
I can see her gleefully indulging in some serious leg-pulling. I hope it's all true, though we'll never know. Visit the
Rue Morgue Press site
here for a more complete bio (from which I extracted the preceding). I also located a blog post from
Caustic Cover Critic
which shows covers of her other novels and allows you to read a page from
Lion in the Cellar.